The first film of the comedy miniseries 5 Lessons in Happiness, Throuple, focuses on a spicy love triangle in which a writer creates a best-seller based on her own affair with her editor. Worried about being discovered by her husband she breaks it off only to find out later on her husband is now screwing her girlfriend! The kiss scenes are a feast for the eyes and the actress, Lynn Chin, recently revealed that she had experience with girls! She also discussed some sexual terms and confessed her favorite positions with girls. 
Watch 5 Lessons in Happiness now on GagaOOLala.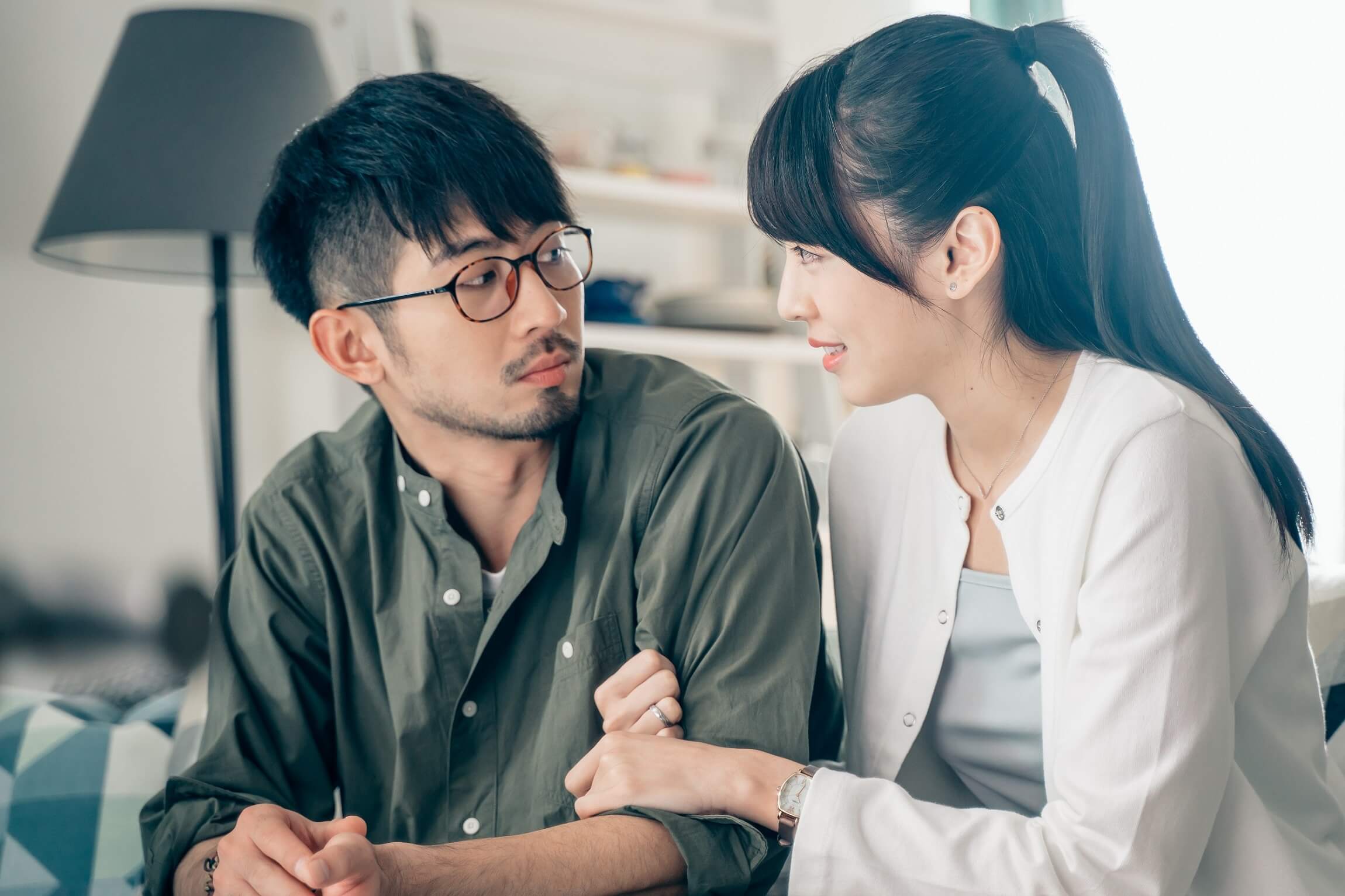 The Writer (Eliza Peng) and her the husband (Jolin Yan). / (Image from GagaOOLala) 
Throuple was directed by Nancy Chen (Big Three Dragons) and features Jolin Yan from Let's go crazy on LIVE, Eliza Peng who has been in many commercials and MVs, and the lead vocalist of the first ever all-women band in Taiwan, Lynn Chin. The three characters are all in love with each other, and when asked who are they the most comfortable with in the intimate scenes, Peng replied that she feels more secure and has an easier time with girls. Yan, who plays the husband, said jealously that the two bonded very quickly, and saw them using their phones in the lounge while leaning on each other, " As if I was the third wheel!"
Lynn Chin, who has the least experience in acting, plays the publisher. The spicy and stunning kiss scenes had everyone blushing during shooting. The actress said that her character is 80% based on herself, as they are both usually the ones taking the initiative in relationships. She also revealed that she were in relationships with other women in the past. The three were very embarrassed during bed photo shoot, but when asked about sexual terms, they all said that they had looked into things like "tribbing" and "scissoring". When the conversation reached "pillow princess", however, they all seemed suddenly reserved.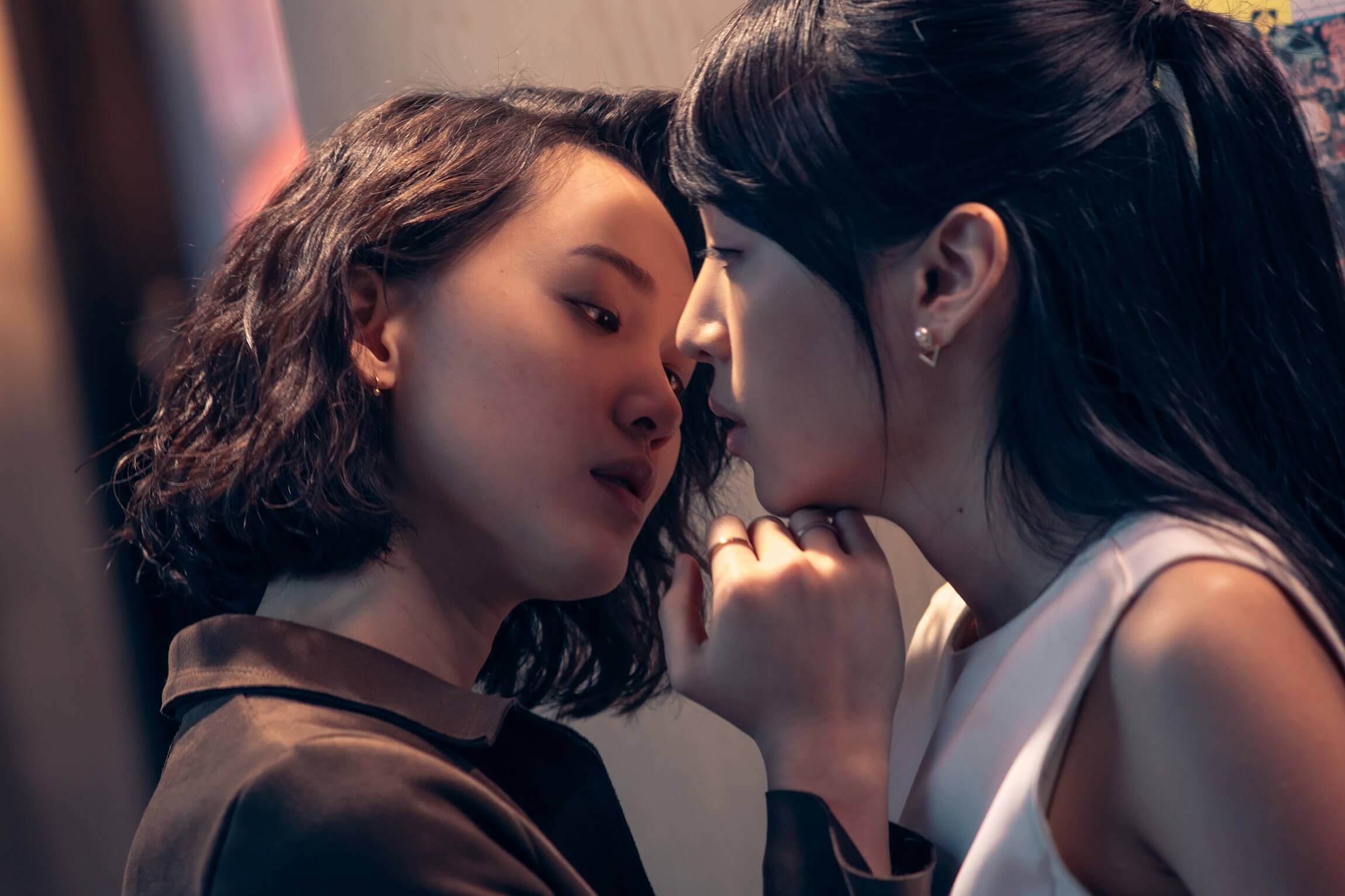 (Image from GagaOOLala)
The bisexual comedy Throuple follows FeiFei, a married writer who has an affair with her publisher AiKi, and writes under a pseudonym a perverse yet thrilling love novel called "Don't go deeper, I give up" ; the work then goes on to win the bestselling novel of the year. Fearing that her husband would find out its her work, the struggling FeiFei decides to tell the publisher how she feels. In the meantime, the publisher decides to step out of this relationship and goes to find the husband to let him know that he should try to fix his marriage. FeiFei opens the door and to find her own husband and girlfriend in bed together... How will this love triangle end?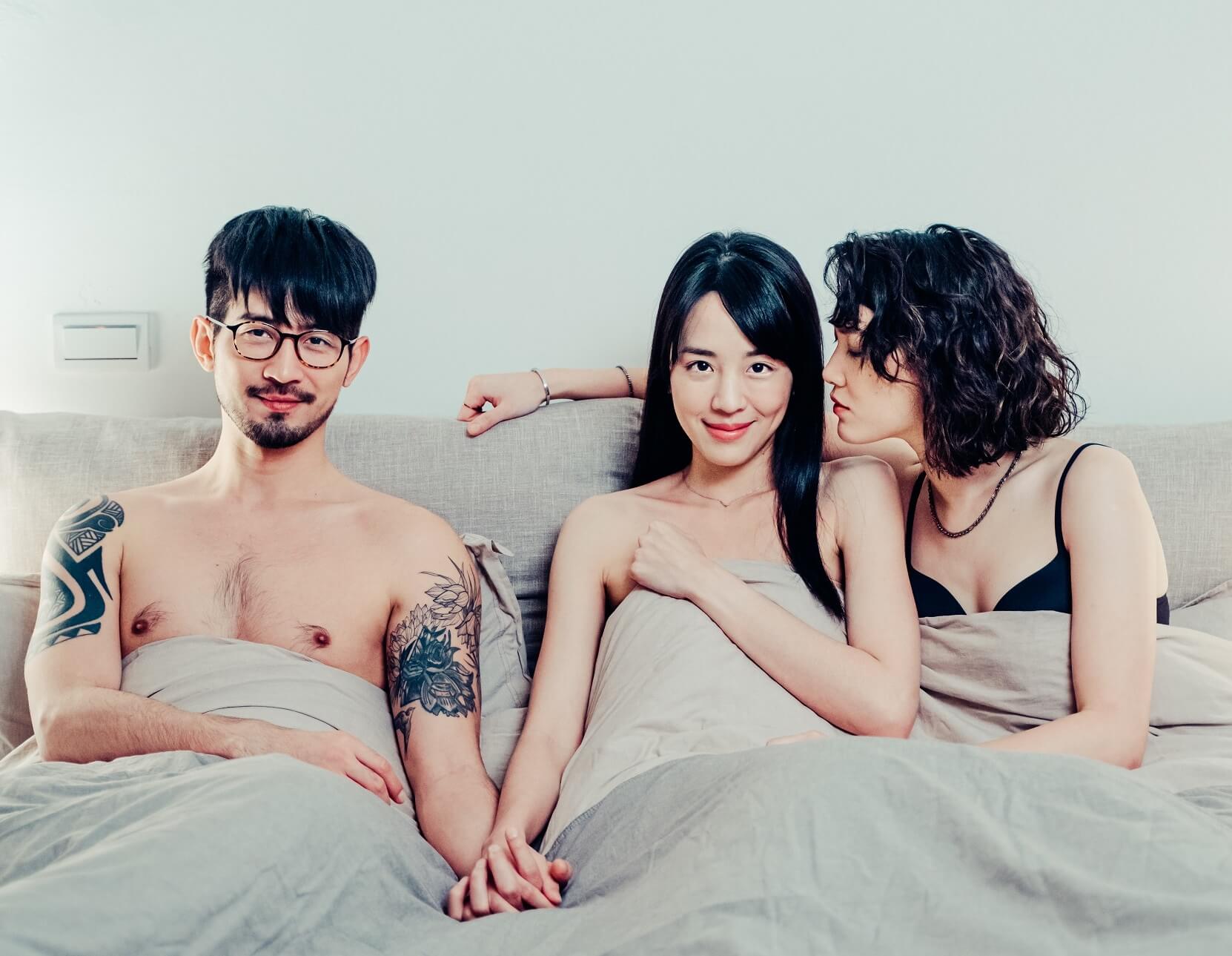 (Image from GagaOOLala)
The gay comedy miniseries 5 Lessons in Happiness includes five comedy shorts with open endings. The diverse stories include Little Man, in which a gay man ponders on his insecurities regarding his size; Homebound, where a tomboy struggles to face her traditional family; Baby Maybe, featuring a gay couple looking to start a family; She is my Father, in which a transsexual woman faces her daughter after many years; and finally, Throuple.