Tall and thin, Jeong Ae-Yeon's is described by the media as an urban beauty. She is also a well-kown actress in the South Korean drama circle. Having debuted more than a decade ago, she has produced more than a dozen of TV shows and advertisements. It is safe to say that most Koreans are quite familiar with her. Already married and mother of a kid, she manages to combine her family life with that of a succesful actress. A yoga company has even asked her to be a model in an advertisement.

Source: GagaOOLala
Often playing an urban housewife in Korean dramas, Jeong Ae-Yeon can also manage to interpret this kind of attractive yet dangerous character. For example, in Two Weddings and a Funeral she plays the secret lover of the female protagonist. With a androgrynous handsome look, the reviews claimed that the her performance had superseded that of the protagonist.
Two Weddings and a Funeral follows a young doctor, Min-Soo, who is afraid of his parents finding out about him being gay and so he decides to fake a marriage with his charming colleague, Hyo-Jin. But Hyo-Jin is in fact a lesbian living with her partner in an apartment right across the hall. Hyo-Jin and Min-Soo therefore start their life of pseudo-cohabitation.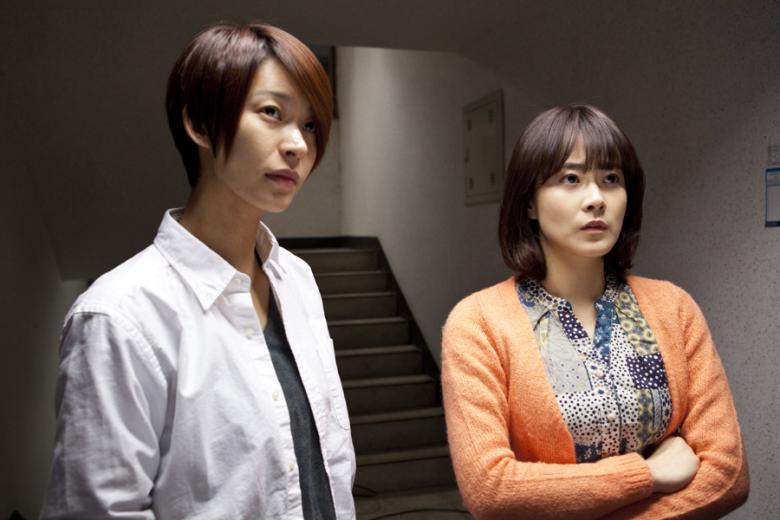 (Source: GagaOOLala)
In the movie, Jeong Ae-Yeon plays girlfriend of the female protagonist, Hyo-Jin, whom she has been dating since college. Both of them are HOT. Moreover, the tacit understanding between them is has old couple vibes, making the audience jealous.
She is cold and cool and, at the same time, quite outspoken and straightforward. She would kiss whoever she meets when she is drunk, and she would also comfort her partner when she is afraid of the lie being unveiled. Her personality is so warm that somehow makes her everyone's #1 lover.
If you want to see how Jeong Ae-Yeon handles this handsome character, Two Weddings and a Funeral is a must-watch!
Author: Yao-yu (耀瑜)