A traditional Chinese wedding ceremony, but the protagonists are two women and in Singapore! Couple Jolyn and Gillyn got married with both their families support. Now, Jolyn and Gillyn to share their love story with LalaTai!
1.How did you two meet?
We met in the bathroom at one of the Thai clubs in Singapore. We hang out with our own group of friends at the club and always see each other in the toilet. After some time, we found out that we had a common friend (Singapore is very small! everyone knows everybody especially in the LGBT community!) and that's how we officially met and went out for dinner and started dating.
2. What's the cutest part of your girlfriend?Would you change anything of the other?
Gillyn: My wife is not cute at all! Haha! She doesn't fall into the cute category. Beauty is in the eye of the beholder, I love her for who she is and she has always been a very sweet wife and I'm content about that. To be honest, there is really nothing that she needs to change at all! Maybe because I'm easily satisfied, she is everything that I want!
Jolyn: I think neither of us fall under the cute category. Haha! She's really the sweetest girl that I have ever met. I don't think she needs to change anything. Let's put it this way: I hope neither of us would change at all and be forever deeply in love! Lol!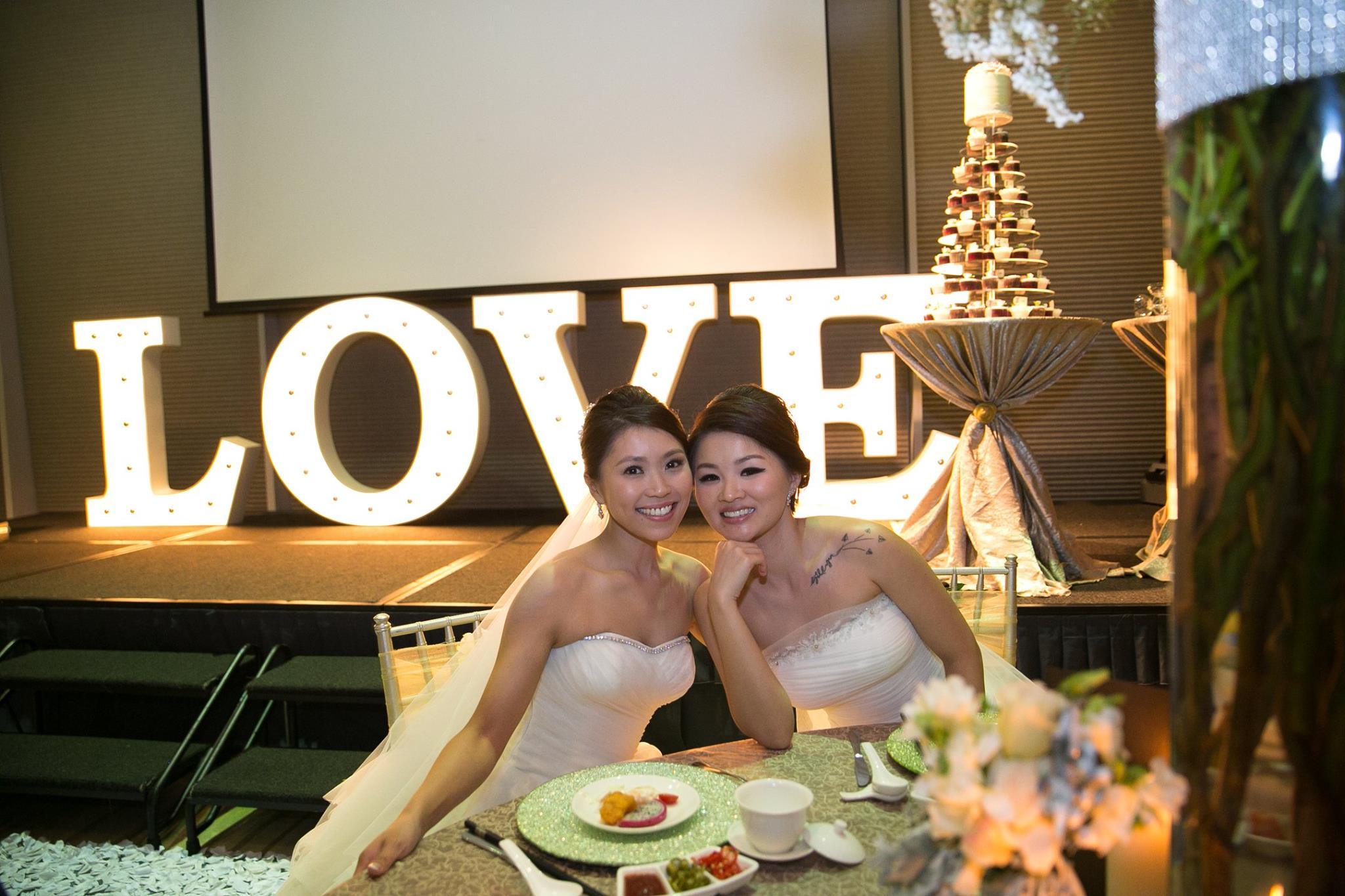 3.How do you initiate things in bed?
That's a pretty cheeky question! Well, I'm not sure about others but we are pretty open about this between the two of us. It's a different approach most of the time, it depends on Jolyn's mood. She is usually the cheekier one. She sometimes ask me out for a make out session on a specific day, or there are times when I'm in bed and I say I'm hungry and she will ask me to choose between eating something that will make me fat or something else that will make me lose calories instead  
4.What is the most romantic thing you have done?
Gillyn: Jolyn is someone full of ideas! She has lots of ideas which god knows where she gets them from! I think the most memorable one would be when I was having a bad day and she wanted to fly a drone into my room from the first floor and I live on the third just so you know. She wasn't very good at flying it but, well, she just wanted to cheer me up. The drone went into the 2nd story window with a little note on it that said "Bad day? Let me bring you some ice cream =)." Later, she went to the second floor and knocked on the door, and asked for the drone back. The old man living there returned it to her and told her "I'm too old for ice cream, age is catching up I can't eat sweet stuff" HAHAHA! How cute is that? Well, eventually after a few tries she managed to fly it into my room and I saw the note.
Jolyn: The most romantic thing she ever did was proposing to me. I really didn't expect that to happen. It's really quite hard to surprise me but she eventually did. Seeing her kneeling down on my birthday to propose to me melted my heart completely! I couldn't believe that's happening!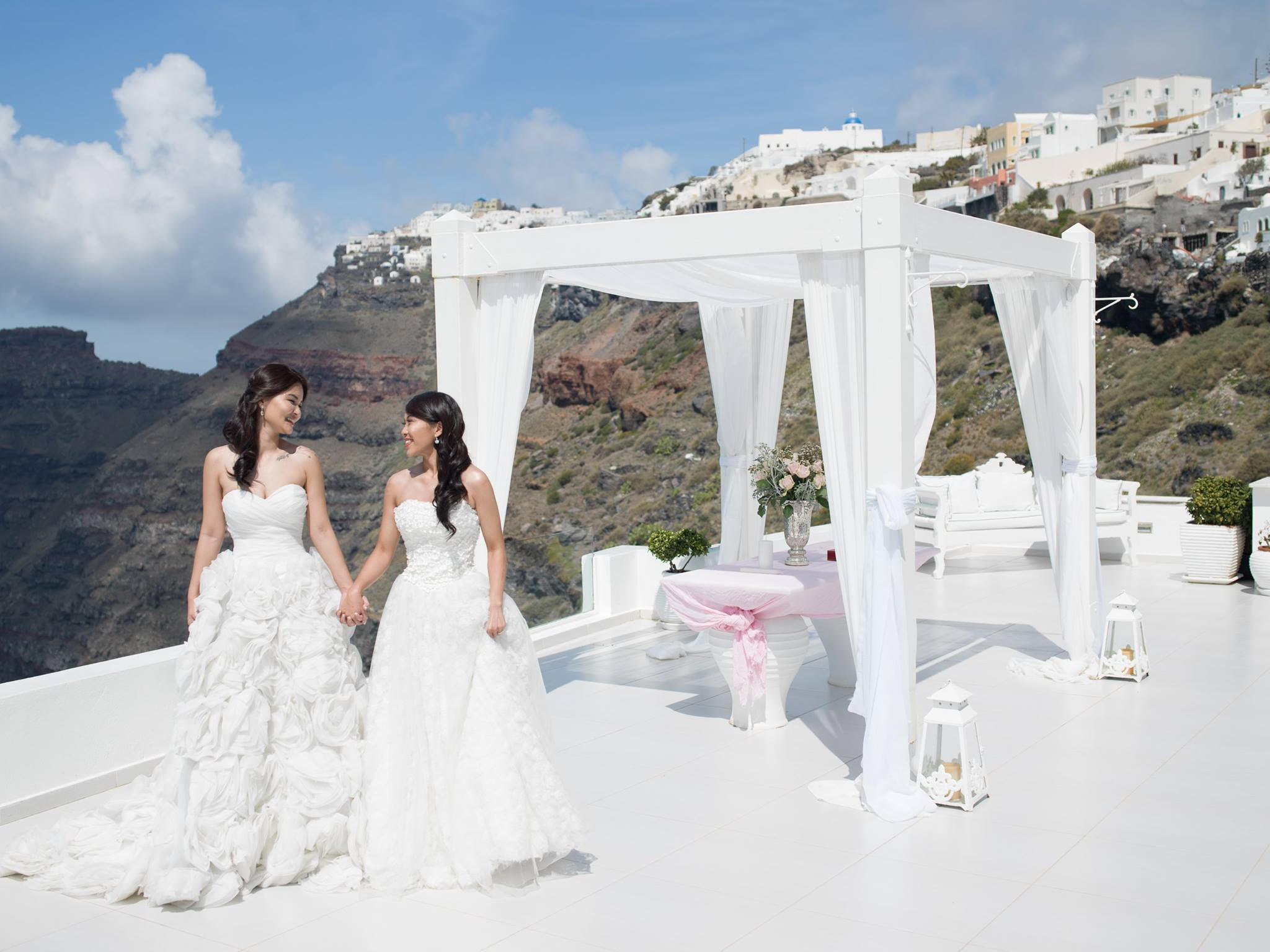 5. What is the secret for keeping the sweetness on a long relationship?
We are always busy with work. We each have our own individual businesses to run, so sometimes we don't get to see each other for long even living together! However, we do make time for each other. We go on night dates or, even, simple things like grocery shopping together makes us happy. We never get enough of each other! So, every moment that we spend together we cherish it. There isn't any specific or special thing that we do to maintain the sweetness. Well, when you love your other half, simple things like sleeping on the same bed and wishing each other good night can be very sweet too. You know what I mean? 
6. What is the thing you wish to do together the most?
Gillyn: The only thing that we want to do very much is to grow old together. We even joke about how funny it would be when we are old and have to remove our denture before we sleep, and kiss each other good night with the saliva all over our faces. Or when we grow old and go clubbing together like in the old times! Oh, oh! Our latest topic was to hos another wedding when we reach 50 years old! celebrating our wedding anniversary together with the same friends that attended our wedding! 
Jolyn: I wanna celebrate our 80th year old birthday together!!!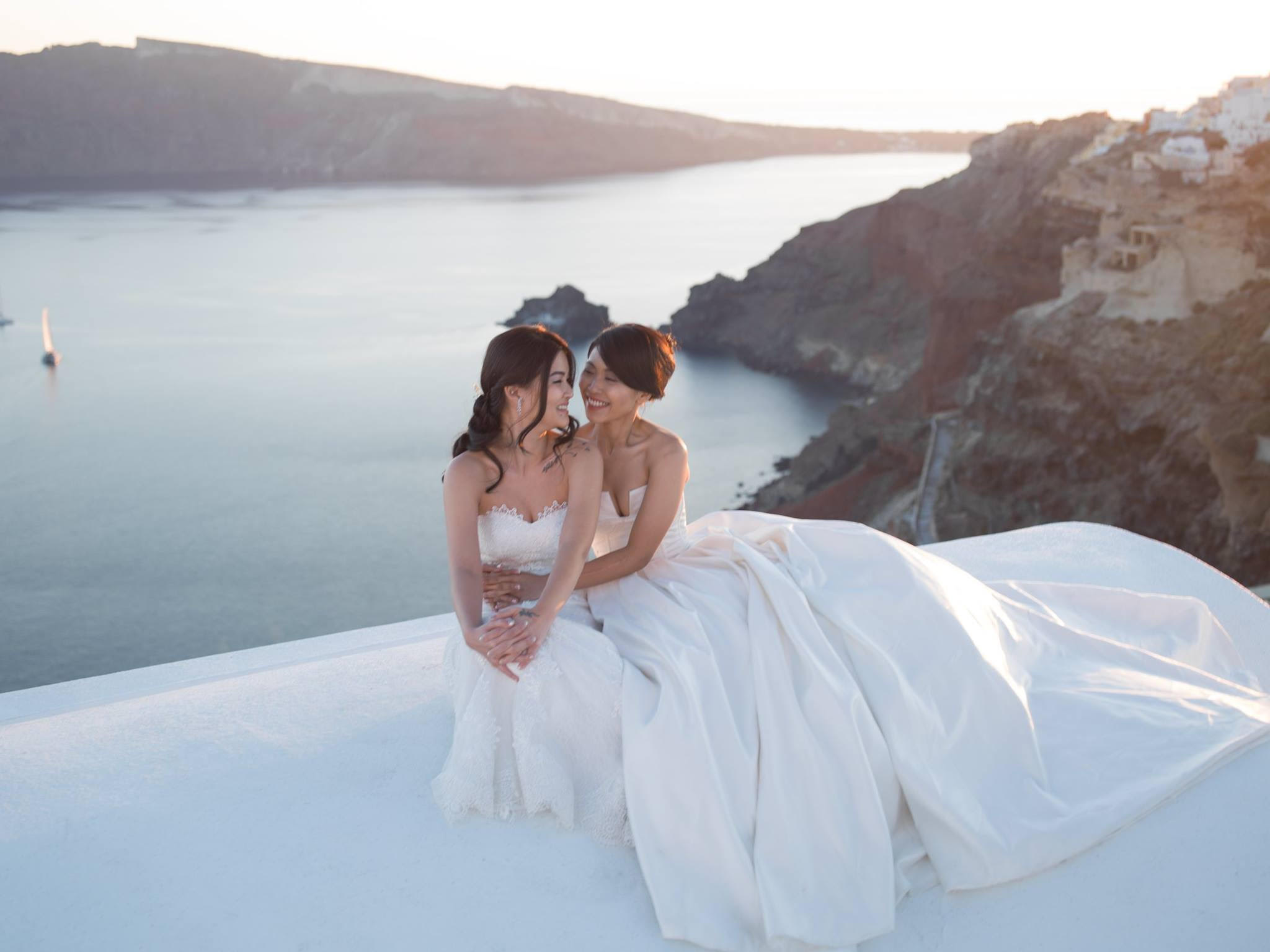 7. What is the most common reasons you fight for? How do you usually make up?
Gillyn: We don't quarrel often (touch wood!!!!), but we do bicker, LOL! You would be surprised over what we bicker about, LOL! We always bicker over helping each other to carry things, like, when we go on a trip and our hands are full of shopping bags. Or over who gets the bill for the expensive items. Other than that, we don't quarrel often (touch wood again!!!). LOL! However, there are times when we do have big quarrels, we give each other space and cool down before we talk it out. The only rule we have in the marriage is never to say the "break" word and just iron things out together. 
Jolyn: One of the most common arguments we have it's about not having enough blanket in bed!! LOL! I actually secretly love this argument every mo[email protected][email protected]@atx4nf0ybcQ9*nkzErning! =p
8. Could you share with our readers your proposal story?
Gillyn: After being together for 3 years Jolyn asked me "let's get married?" I was shocked but I definitely said yes. The conversation happened while we were driving back home! Of course, it doesn't just happen like that and we got married. How can the whole proposal be skipped?! I know Jolyn was gonna propose to me one day I'm just not sure when. But, she didn't know that I was also gonna propose to her! Well, which girl would not want to be proposed to?! I proposed to her on her birthday! She thought it's just a staycation in a hotel and didn't know that I was going to propose until she came to the hotel room and saw me kneeling down with the ring and decorations in the room. Doing so I thought I wanna give her a memorable proposal so I wanted to declare my love for her and advertise it on the newspaper with some cute drawings and all. 
Jolyn: The proposal stressed me out!! I kept thinking what's the most romantic way to propose to her! I googled so much until my eyes went blin[email protected]#!sQKpY)hXf-#Kk07v6Y3sHBN8(b(O0nmKd! I ended up thinking a beach proposal was the best! So, I went to Sentosa and booked a part of the beach and brought in a music band. To show sincerity, I sang for her before I popped the question!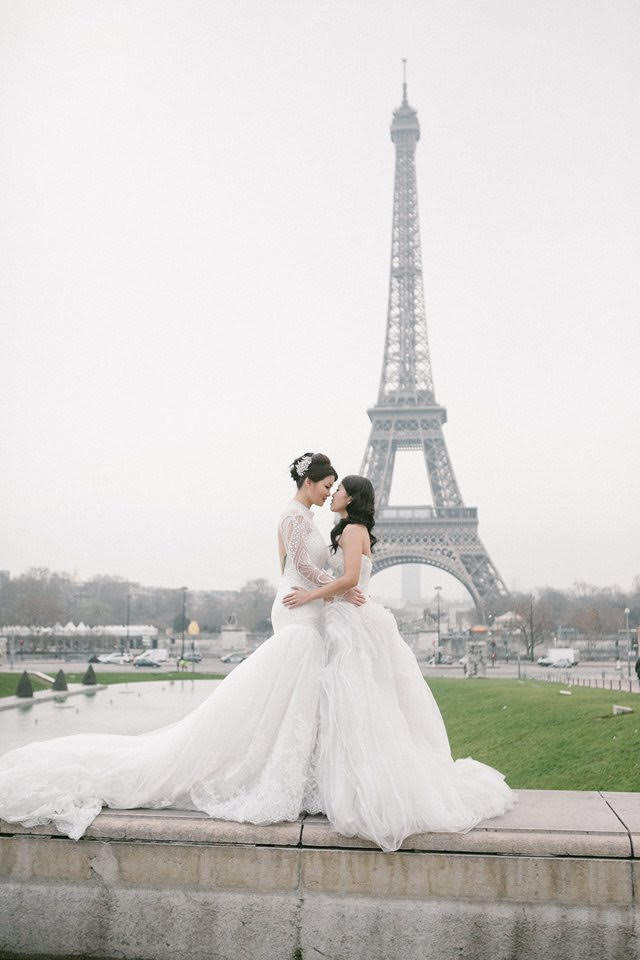 9. Please, share your coming out story. Why did you decide to hold a lesbian wedding in Singapore?
First and foremost, I have to say that we are the luckiest persons on Earth, both our families accept us for who we are. When we first started going out, we attended family gatherings of both sides together, and few years later we had a Chinese reunion dinner together with both our parents. So, when we decided to get married we wanted not only our family but extended family to share the joy with us. Moments like this are very precious, no amount of money can make you feel this way. Thus, we hope that the community in Singapore feels that there is always hope for people like us! It doesn't come easy but hang on there and there will always be a rainbow after the rain! We hope that other LGBT couples are able to go through such memorable experience like we did! 
10. Would you like to have a baby in the future?
We did have this conversation before and a serious talk about it, but we decided to drop this idea for now as we are still not ready to be parents, and wanted to enjoy the marriage life for now. You never know, we might have one someday!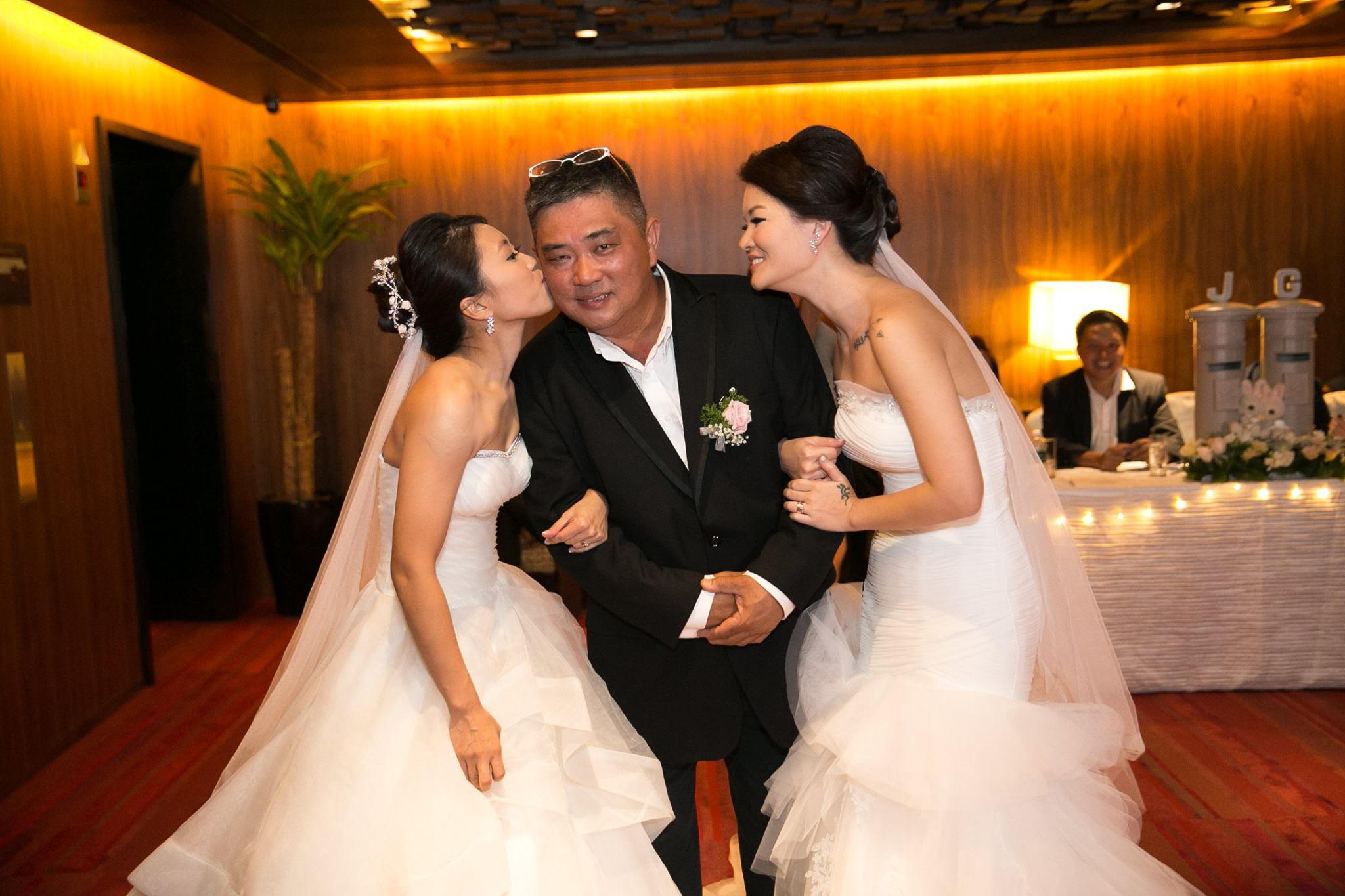 11. What would you like to say to each other?
Gillyn: Stop irritating me! LOL! Not sweet, right? But, we are like the Tom and jerry always irritating each other and that's our way of loving! 
Jolyn: Can we have more time for vacation? There's so many places I wanna take her to explore together. So many memories I wanna create with her! But, we both have so little time. Gillyn is pretty much a workaholic. Asking her to take leave it's like taking her life! Hahaha! She's always feeling stressed to "apply leaves" and we always argue about this issue too! But, then again, I do understand the stress she is facing too! 
12. What would you like to say to the readers of LalaTai?
Be whoever you want to be! You only live once! Be brave and stand up for yourself! The initial road might be tough but if you don't dare to even step out, you will never be who you truly are. If you want people to accept you, you have to accept who you are first :). There's no right or wrong when loving someone else, either different or same gender. Love has no boundaries!
Follow them on IG: Jolyn Instagram、Gillyn Instagram