Check out all the info about Handsome Stewardess on GOL STUDIOS!
After We Are Gamily and The Substitute, director Zero Chou presents Handsome Stewardess, with Golden Bell Best Actress Pejia Huang andh Xiao Man. To prepare for her karate expert role, Pejia Huang tool several lessons of karate and mixed martial arts (MMA). Having learned dance growing up, Huang's physical coordination is rather brilliant. However, MMA is an art so difficult to master that it takes much training to learn. Huang said that her "body almost fell apart after the first lesson."

Pejia Huang playing a ferocious character.
(Source: HARVEST PRODUCTION FILMS CO., The 3rd Vision Films)
In the film, Huang plays a ferocious but jealous woman. Huang said that that is exactly how she interacts with her friends: "I can just be myself." Moreover, the character's birthday date is exactly the same as hers. "I think the director did that on purpose!" she said. Director Zero Chou laughed and said that "Indeed, this character is designed precisely for her. Haha!" A few days ago, the cast and crew went to China Airlines and started filming. With a height of 5' 7", Xiao Man amazed the cew on her flight attendant's uniform. Standing next to Huang, the two were described  as the cutest lesbian couple ever. Handsome Stewardess will be released during the last months of 2019.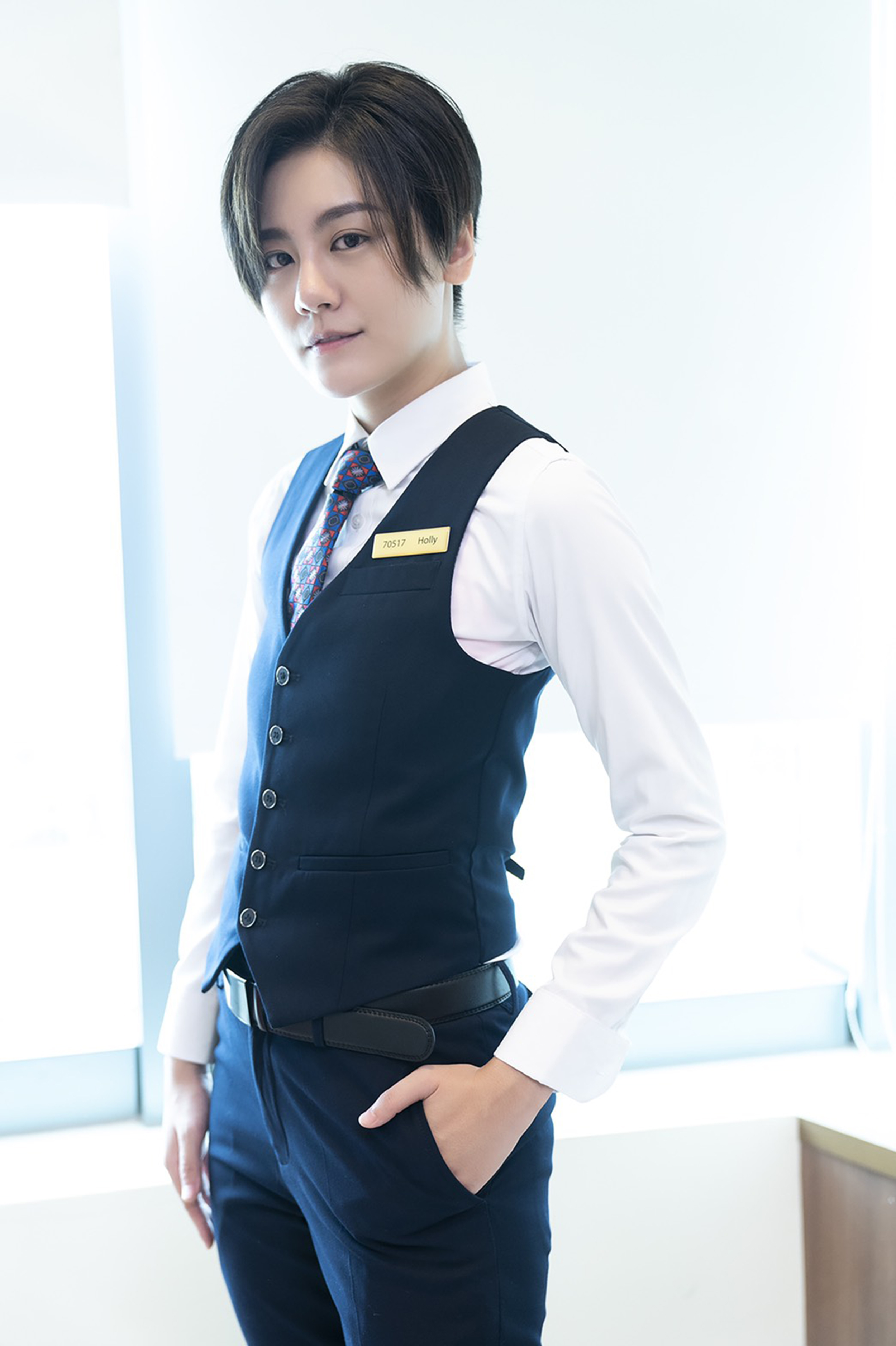 Xiao Man shooting Handsome Stewardess. 
(Source: HARVEST PRODUCTION FILMS CO., The 3rd Vision Films)
Huang had collaborated before with Zero Chou in the movie Drifting Flowers and the TV film Three Makes A Whole. This is her first performance with Xiao Man. It took some time for both of them to open up to people. Huang joked that "if we hadn't done this film together, we'd probably never know each other."
This is the second time Xiao Man collaborated with Zero Chou. Playing the handsome and tender butch, Xiao Man had to cut her hair short before the shooting; after she got her hair cut, she still didn't feel like it was short enough and asked the designer to shave the back of her head to only 3 cm left.  Xiao Man said that "this is what I told myself: I have to try something different from my previous characters." After putting her flight attendant uniform on, she confessed this was her dream job.
China Airlines was moved by Zero Chou's long-time advocating for the rights of LGBT+ people and minorities, and decided to help the crew flew them for free to Singapore. It is that due to this spirit that Zero Chou is internationally well-known. On July 1st, the Academy of Motion Picture Arts & Science announced that they would add 842 new members, and Zero Chou was one of them. Following Ang Lee and Hou Hsiao-hsien, she is the third Taiwanese director joining the Academy of Motion Picture Arts & Science, and also the first Taiwanese female director. She said that she "never expected this" and "felt so honored;" moreover "they [the Academy] noticed Spider Lilies and Ching's Way Homes. I hope that I could keep expressing my ideas as an Asian female through films."
Source: HARVEST PRODUCTION FILMS CO., The 3rd Vision Films