Fragrance of the First Flower, GagaOOLala original series, and part of the "Queer Up the Volume" anthology project, has been featured in Series Mania, the biggest exhibition for TV festival in Europe, and  Tokyo International Film Festival. The story focuses on the relationship between a senior and a junior in the school volleyball team. The series invites the lesbian goddess and indie icon Enno Cheng to create its theme song Fragrance of the First Flower (same title as the series). Since the song came out, the responses went crazy and many fans commented "The BGM of the song is out of this world!"

Enno Cheng creates the theme song for the lesbian series Fragrance of the First Flower.
(Image/Fire On Music)
Enno Cheng shares the release of the song on her Instagram page and talks about the process of creating this song. The day after she met with the director, pondering through the words director said, and imagining the two protagonists' faces in her mind, the song's outline started to emerge. "That's 100% real! I was thinking about ZaiZai Lin and Lyan Chen the entire day. This song won't be possible without them. The song comes into my mind just like that. I think this is what you call a "natural" creation. Although I don't know what would the series turn out to be like, I believe it will come out awesome. Please wait and enjoy the premiere of Fragrance of the First Flower on the 12th, November! " Enno Chen commented.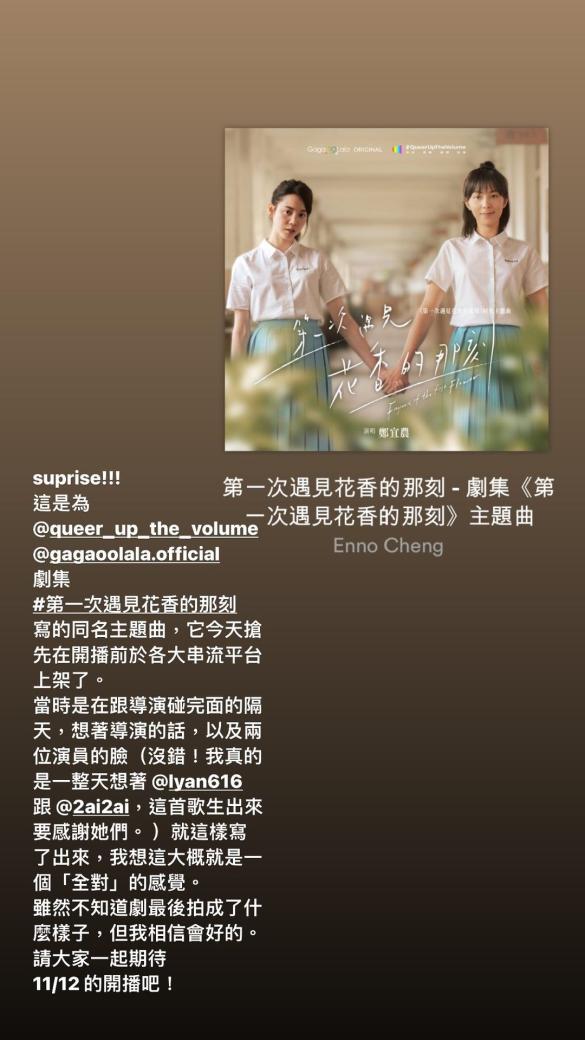 Enno Cheng shares her creative process of the song on her Instagram account.
(Image/@enno_cheng IG)
The lesbian series Fragrance of the First Flower is directed by the GagaOOLala Pitching Sessions winner I-Han, Teng and it also invited actresses ZaiZai Lin and Lyan Chen to play the leading couple. Also, many other famous actors and actresses all took part in the show. The story focus on an innocent, ambiguous relationship between Yi-Ming (played by ZaiZai Lin) and her junior teammate Ting-Ting(played by Lyan Chen). During their school day together, Yi-Ming hasn't realized that the feeling Ting-Ting had for her has already surpassed what one would call a friendship. Years have gone past, the two of them re-encounter each other, their unresolved youth memory starts a potential storm towards their ordinary adult life.