This year's World Pride took place on June 30 at NYC. This year is the 50th anniversary of the Stonewall riots, and more than 3 millions people joined the parade. Marriage Equality Coalition Taiwan co-hosted, together with the local New Yorker artists, an interactive art exhibition, The Wedding Banquet: History of Taiwan Gays' Struggle for Marriage. One of the gay movement pioneers, Chi Chia-wei, dressed in a rainbow suit during the parade. Jay Lin, founder of GagaOOLala, also joined the march and took pictures with the floats. Besides for celebrating the first year of same-sex marriage in Taiwan, the billboards on the float also invited friends from different countries to join the Taiwan Pride Parade 2019, which will take place on October 26. Moreover, it also promoted GagaOOLala, the largest LGBTQ+ movie platform in Asia, and GOL STUDIOS, the first LGBT-only collaborative production platform.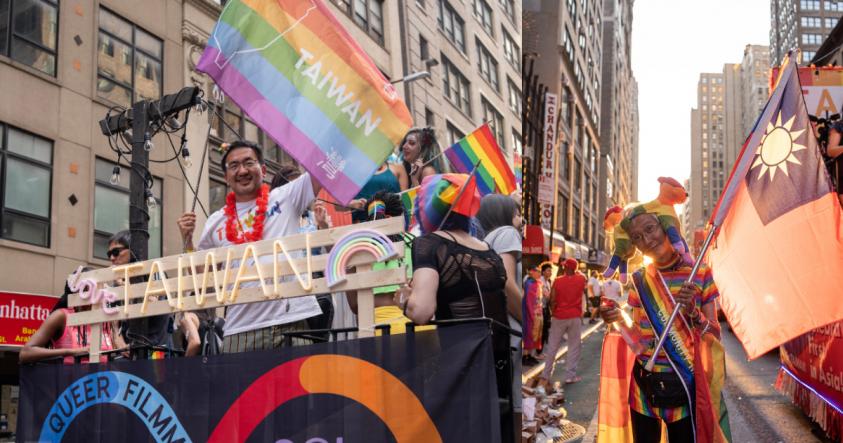 Jay Lin (left) with a rainbow Taiwan flag; Chi Chia-wei (right) dressed in rainbow. (Source: Zoei Ma)
On May 24, 2019, Taiwan became the first country in Asia to legalize same-sex marriage, becoming a milestone in the region regarding marriage equality. More than 500 couples got married on that very day. One month after the bill passed, according to the Ministry of the Interior, 1173 couples have gotten married. According to Central News Agency, this year is historical and will be always remember, so of course Taiwan is part of the parade! Jennifer Lu, Chief Coordinator of the Marriage Equality Coalition Taiwan, has attended the parade four times. She said that through exhibitions and floats, we could proudly announce that Taiwan is the first country in Asia where gay couples can get married. Moreover, all Asian countries will work towards the same direction, and Taiwan will keep helping them.
We could see many people from Taiwan's LGBT communities and gay-friendly people join the parade: Mr. Chi Chia-wei wielded the national flag, wearing a teddy bear on his head and dressed in a rainbow suit and rainbow stockings; gay activist Jay Lin and Jennifer Lu wore a T-shirt with the word Taiwan in rainbow colors, celebrating, out and proud! For more pictures please scroll above.
Source: Zoei Ma, Central News Agency